The Ashes 2017 is starting soon. We are less than 24 hours away from one of the oldest sporting contests in the world.
Everybody knows about the origin of the Ashes…. In 1882 at the Oval, Australia had set England a target of 85 in the 4th innings. Australia, considered the inferior team, had amongst its roster a scary fast bowler called Fred Spofforth, who terrorised England and bowled them out for just 77. Thanks to this defeat, a mock obituary was printed in The Sporting Times bemoaning the death of English cricket and how the body will be cremated and the Ashes taken to Australia.
The actual urn itself was made in a garden in Australia, when England went there on a return tour in 1882-83, and was presented to Ivo Bligh. The garden belonged to the Clarkes – Sir William and Lady Janet Clarke. Their music teacher Florence Murphy was also present when the urn was made and given to Ivo Bligh. Interestingly Florence Murphy later married Ivo Bligh and bequeathed the urn on her death to the MCC and the original urn can be seen at the Lord's museum to this day.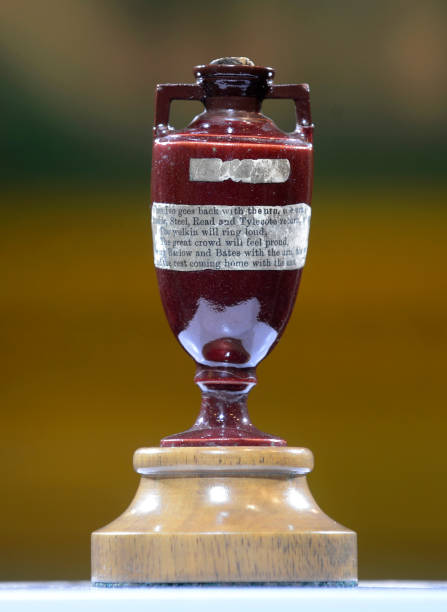 Now that is the backstory of the Ashes… Lets go to the backstory of the backstory – Why ashes? Why cremation? Why was the body not buried as per Anglo-Saxon tradition?
Here is the backstory – In 1874 a certain Sir Henry Thompson, who was a surgeon to the queen, assembled a group of supporters in his house and declared –
"We, the undersigned, disapprove the present custom of burying the dead. We desire to substitute this with cremation, which shall rapidly resolve into its component elements, which will not affect the living."
This was the formation of the British Cremation Society. One of the signatories was Shirley Brooks, who at the time was the editor of Punch magazine and a believer in cremation. He influenced his son Reginald Brooks, who also became a member of this society. And the mock obituary that started the Ashes was written by…. Reginald Brooks.
Hence, the contest between Australia and England in test matches is called Ashes and not "Mummies".